Aloha! There is something so beautiful about fungi and decay, the fungi I found outside yesterday growing on some old fence posts that were soaked through from the rain, there seemed to be three different varieties or the same variety at different stages of their life cycle, very fascinating. When I looked at them more closely under the macro lens, they reminded me of sea anenomes and someone thought one resembled a Lion Fish.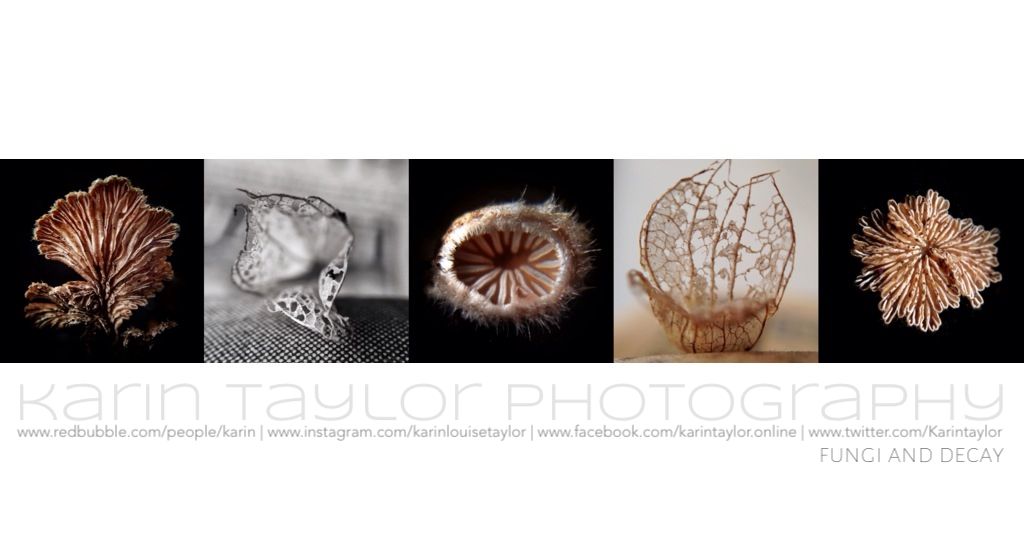 The lace is represented here by decaying plant matter found at the bottom of shrubs in my neighbour's garden, to me they resemble things you might find belonging to a fairy, a friend of mine thought the little round fungi resembled a fairy's beanie, and the larger lace one that has sepia tones reminded me of a fairy's bed or cane/wicker chair, and someone else was reminded of a boat or ship with a sail.
I can see how we become so inspired by what we see in nature, you can see that fashion, interior design and all types of creative artists could easily be inspired by the beautiful things in nature, even fungi and decay have their place in the scheme of all things. I hope you like these images I took with my iPhone 5 and Olloclip Macro lens. Thank you for looking, please say hello and tell me what you think, and please don't hesitate to share on your favourite social media site (please link to me) and visit the links below.
Art Gallery & Print Shop
EyeEm Photography Gallery
Instagram Photography Gallery
Facebook
Twitter